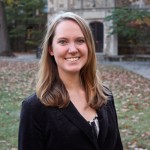 Rachael Lacey
Direct Incorporation Staff
There's no way around it: the thought of starting a business can be daunting. People will give you all sorts of reasons not to do it, and a lot of those arguments can be valid. However, some of the most common motives for hesitation are based on ideas that just aren't true. Here are five frequently stated reasons for not starting a business, and why you shouldn't let them hold you back:
1. "I don't have a good enough idea"
You don't need to be the next Edison in order to start your own business. Creating a product from scratch or coming up with a revolutionary new service is far from necessary. You can build a company around anything from wedding planning to accounting. If you like dogs, you can be a dog walker. Like writing? Be a freelance copywriter. Pretty much any hobby that you have can be turned into a business. So why not get paid for it?
2. "It's too risky"
Yes, it is risky, and there's no way around that. But it's also incredibly rewarding. Julie Lepper, founder of Julie S. Lepper Accounting and Tax Services, LLC, explains, "The risk is high, but the reward is also very high. It's very cool to see how you take nothing and turn it into something." Here are some more rewards for starting your own business, according to other entrepreneurs in Ann Arbor: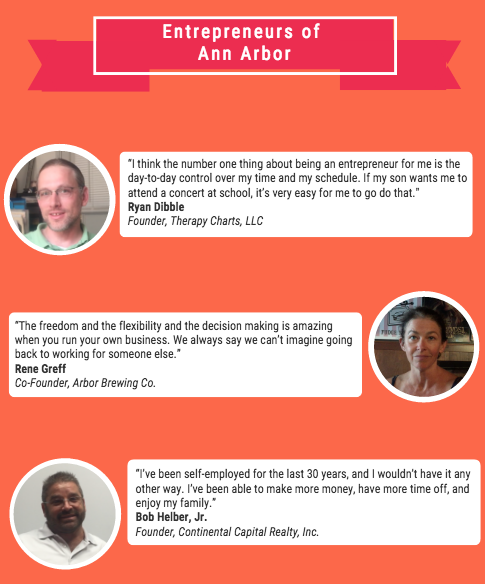 3. "I'm too young"
Yes, I can tell you from experience that being a young adult feels like you are constantly scrambling to figure out what you're doing. But the thing is, being a young adult also tends to offer a lot of freedom and flexibility. Chances are, you don't have a spouse or family to provide for. It would probably be easy to pack up and relocate if you wanted to. And I mean, the founders of Facebook, Microsoft, Apple, and Google were 20, 20, 21, and 25, respectively. And this guy is a millionaire at age 22.
4. "Being the boss means getting bogged down with paperwork and boring stuff"
Administrative work is going to be a part of any business, but there are also lots of cheap options for hiring help with taxes and legal forms. Plus, being an entrepreneur is anything but boring.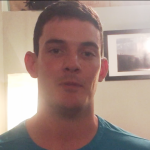 This local entrepreneur argued, "As an entrepreneur, I was able to decide everything that I wanted to learn, and also be exposed to new things on a daily basis, and overcome new challenges. And for me I think that's one of the best parts about running my own business"
5. "I don't know what I'm doing"
Although it wouldn't hurt, it's not necessary to have a business-related degree in order to start your own business. Rene Greff, co-founder of Arbor Brewing Co. in Ann Arbor, reminisced about starting her successful brewpub with her husband:
"I was a philosophy major and he was a political science major, so we had no business experience. We knew nothing about setting up or running a business, and we kind of just did everything by the seat of our pants."
And more than 20 years later, ABC is still going strong. Raul Perdomo, founder of Michigan Draft Solutions and current owner of Apples and Oranges in Ann Arbor, also told me about his experience incorporating his business:
"When I started Michigan Draft Solutions, I had no idea what I was doing. I talked to some business owners I knew to ask what they'd done, and once I figured it out and got the paperwork I needed, I was good to go."
It might take some time and research, but if you want to figure it out, you'll certainly be able to. Don't let these reasons prevent you from starting a business you've been thinking about (or just thought about now). You'll never know what you can do if you don't try, so don't let these doubts keep you from taking that leap of faith. It might just be the best decision you've ever made.