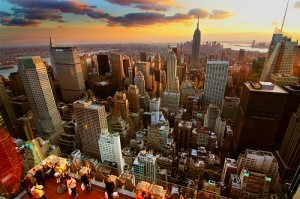 By Maryann Lawrence, Startup Rep, Direct Incorporation
Today for our state incorporation series we're visiting the Big Apple to learn about what you need to know to incorporate a business in New York.
Discover the benefits of incorporating in New York.
According to the Small Business Administration small businesses in New York account for 99 percent of the state's employers and 52 percent of its private-sector employment. It also ranks #3 in the highest average wages and #4 in the best education climate, according to a report by Business Facilities.
How much time and what is the cost to incorporate in New York?
The ease and speed with which a business is incorporated in New York can vary based on the company name and category of business activity. When incorporating an ordinary corporation or LLC, the average processing time is around 3-4 weeks. The state fee to incorporate an ordinary New York corporation is $145, whereas, the state fee for an ordinary New York LLC is $210. For an additional $65 expedite fee, the state will cut the processing time to 3 business days.
About Direct Incorporation's New York incorporation services.
Direct Incorporation offers three packages to assist you with incorporating in New York, with prices ranging from $149 to $773. For more information on our New York incorporation services, click on a link below.
Do you have questions about incorporating your business in New York? Please leave a comment below and I will try to answer them. Thanks!  – Maryann